For those of us who live in the Blackmore Vale, the demise of the old Blackmore Vale Magazine was a huge loss.

Sadly it's not alone – print publications are dying across the UK as costs spiral and physical readers move online for their news.
But local people still need that hyper local resource.

We are a husband and wife team who have lived in the heart of the Blackmore Vale for almost thirty years. We're raising our children here. It's home. And we happen to have the right skills…

So instead of saying
"why doesn't someone…"
we've bitten the bullet and said
"WE should do this".
(it seemed like such a brilliant idea at 2 in the morning…)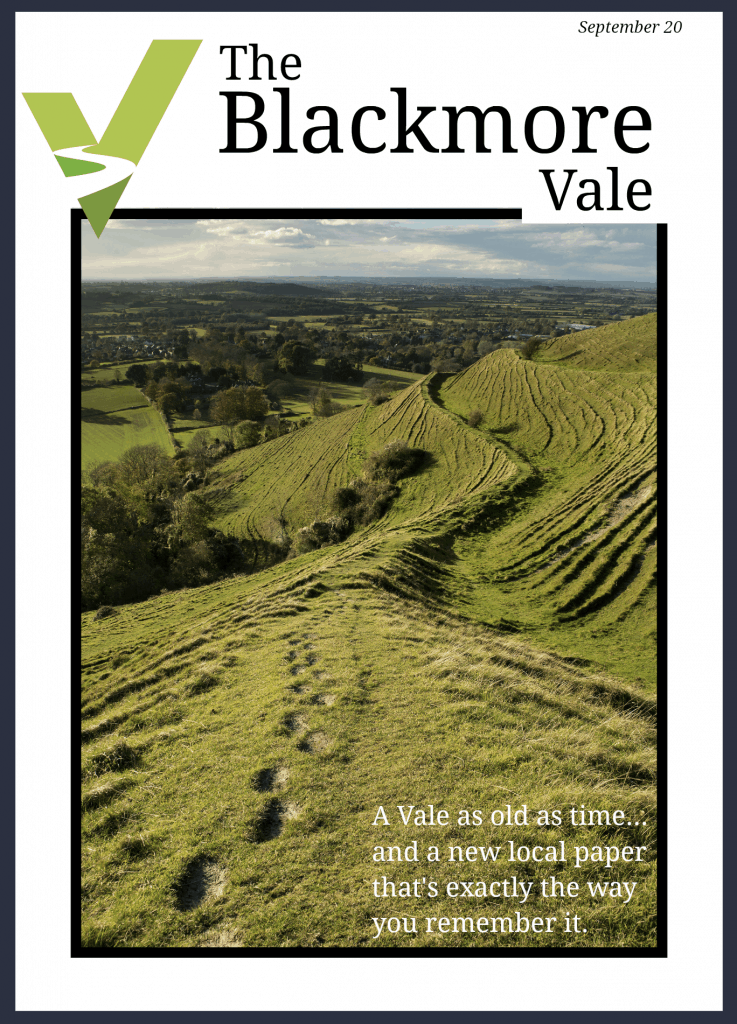 So here we are – trying to pick up where the previously marvellous Blackmore Vale Magazine left off. We want to ensure the Blackmore Vale still has a gem of a local paper to serve our communities, just as we have since Alan & Ingrid Chalcraft bought their local Parish magazine in 1978 and created the first incarnation of a magazine for the Blackmore Vale.
This is NOT the same 'Blackmore Vale Magazine' though. We're a new venture, so we're starting by keeping things simple, with plenty of room to grow as the publication finds new legs. The biggest difference being that we're moving to a purely digital publication – still in the same familiar local newspaper format, but available to read on your phone, your tablet or your computer. That way we not only keep running costs down, but can allow an interaction readers now expect – we are all used to reading and researching online, and to simply clicking on something when we wish to learn more.

For example, a local pub might advertise a fabulous curry night – what if you could just tap the ad to call them to book, or visit their website to see their menu and current opening hours?
Yes – we're excited at the idea too.
To start with we won't be tackling the job of hard journalism around local issues – we're not journalists, and start up funds do not allow us to pay the salary of one! The area is currently still well served for local news stories by newspapers such as the Vale Journal, Valley News, and the Western Gazette – and we'll soon get there too.
Instead, we want to provide a voice for local people, packed alongside the 'bible of local news and resources' we've been missing.
We'll still have the pages of property and cars, the ability to quickly find a local plumber or winter logs, hear what the Rotary Club is doing (and naturally Father Christmas' route times this year) and of course the essential Births, Deaths & Marriages.
There'll still be 'Letters to the Editor', news and events, plus regular editorial columns by different voices from within the community.
Yes, we live in a bucolic idyll – but as a region we're connected, progressive and agile. We may have an above-average representation of farmers and country pubs – but we also have an abundance of tech start ups, small business entrepreneurs, and global enterprises with multi-million turnovers.
Our aim is for the new 'local paper' to continue to reflect them in a new digital format.
Laura & Courtenay

Subscribe here to have every issue of The Blackmore Vale magazine drop into your inbox on publication day.